BSEF Asia Forum 2020 – Successful Webinar Gathered Key Asian Stakeholders
 4th November
For the fourth consecutive year, BSEF, The International Bromine Council, organised its Asia Forum. The 2020 online edition of the BSEF Asia Forum entitled "Megatrends, Materials and Flame Retardants" brought together more than 120 Asian stakeholders and experts from academic, industry and government organizations that shared their knowledge in key future-ready technologies and strengthened the cooperation with South Korean partners.
Dr. Kevin Bradley, BSEF secretary General opened the webinar by welcoming all the participants and speakers and by saying that "At BSEF, we are confident that brominated flame retardants will be critical to the successful and safe deployment of many of the new technologies. BSEF member companies are also actively working in order to develop innovative and more circular materials and technologies."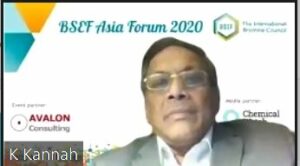 Kannah from Lanxess presented the current perspectives in Brominated Flame retardants by saying that "Brominated flame retardants are performing strongly in key applications and geographies. Asia Pacific region is particularly strong, driven by growth in the electronics & electrical sector." K. Kannah continue saying that BSEF member companies are innovating towards a sustainable future, and developing new technologies such as "Polymeric flame retardants that are new alternative that meets requirements in terms of flame retardant efficacy and is environmentally superior and more sustainable"
Dr. Jürgen Troitzsch, from Fire and Environment Protection Service presented the Mega-trends in mobility, 5G & the Internet of Things (IoT) and its impact on materials use and fire safety. Dr. Jurgen reinforced the fact that "the growing number of physical objects used in IoT, 5 G and e mobility requires high fire safety standards to protect life and property" and he added that "in these new, future oriented technologies, it is essential to consider the impact of combustible materials and components on fire safety".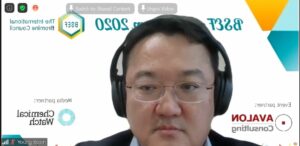 Young Kwon from Key To Way presented an overview on "Material And Chemical Trends Supporting E mobility And The Digital Revolution In Korea" and  mentioned the fact that "South Korea has been at the forefront of innovation, and has been ranked as number 1 for six consecutive years on the Bloomberg Innovation In
dex". Young continued saying that some of the most disruptive innovators in Korea such as Samsung, LG and Hyundai are working on cutting edge technologies in collaboration with Academic and Research Institutes.
Patrick Fox from BSEF and Bob Miller from Albemarle presented policy and regulatory landscape Product policy (eco-design, RoHS) and chemical regulations impacting Brominated Flame Retardants use in Europe and USA. The speakers highlighted some of the key regulations in electrical & electronic equipment, such as the Ecodesign in Europe which included a ban on Halogenated Flame Retardants (HFRs) for use in enclosures and stands of e-displays​, as it was claimed HFRs
are hindering recycling and the TSCA risk assessment on TBBPA by The Environmental Protection Agency in the USA.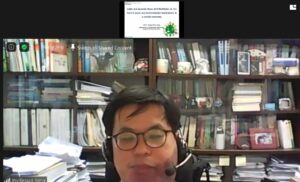 Professor Yong Chul Jang, from Chungnam National University presented the Korea's policies and approach to improving circularity of plastics from EEE and automotive plastics. The Professor started by saying that "E waste is one of the fastest growing environmental problems worldwide" and "Proper management practices of e waste are needed towards a circular economy"
Prof. Yong Chul Jang continued saying that "proper management practices of e-waste are needed towards a circular economy. In order to achieve clean cycle of plastics from e-waste, BFRs-containing waste should be properly managed and treated."
Dr Kevin Bradley agreed and confirmed that the trends mentioned by the professor are also seen in Europe and highlighted in a recent SOFIES study on the Impacts of Brominated Flame Retardants on the Recycling of WEEE plastics in Europe which was commissioned by BSEF.
Participants to the Forum also raised questions a number of questions to the speakers related to the Circular Economy, new materials and Flame Retardants.
BSEF would also like to thank all the speakers that participated in the 2020 edition of the BSEF Asia Forum for the insightful presentations and discussion.
PRESENTATIONS – DOWNLOAD BELOW
About BSEF
BSEF – the International Bromine Council, is the global representative body for bromine producers and producers of bromine technologies. Originally founded in 1997, BSEF works to foster knowledge on the societal benefits of bromine and its applications. The members of BSEF are Albemarle Corporation, ICL Industrial Products, Lanxess and Tosoh.
Further information: Visit www.bsef.org to learn more and follow BSEF on Twitter @BromineInfo for the latest news and information.