BSEF at the EU Fire Safety Week 2021

With more than 350 participants from 25 different countries the third edition of the European Fire Safety Week organized by the European Fire Safety alliance took place virtually from the 29th November till the 2nd December.
The EU Fire Safety Week aims to raise awareness on fires safety toward EU policy makers, engage stakeholders to share best practices within EU Member States, and formulate recommendations to solve gaps in knowledge, data, legislation and standards related to fire and electrical safety.
This year edition was focused on research, studies and reports that highlight the risks of fire in the home. Leading experts shared their knowledge about major fire safety issues in Europe, such as the ageing population, the energy transition and (un)harmonized fire statistics
On day 2, Kasturirangan Kannah and Patrick Fox from BSEF took part at the "The dangerous reduction in escape times" session where they spoke about Fire safety of upholstered furniture and the opportunity to address flammability hazards in the new general product safety regulation.
The session that was moderated by Rene Hagen, Professor of Fire Safety, focused on the results of the experiments on smoke propagation (The Netherlands, 2020) in relation with the action points (within Focus Area 2) of the European Fire safety Action Plan.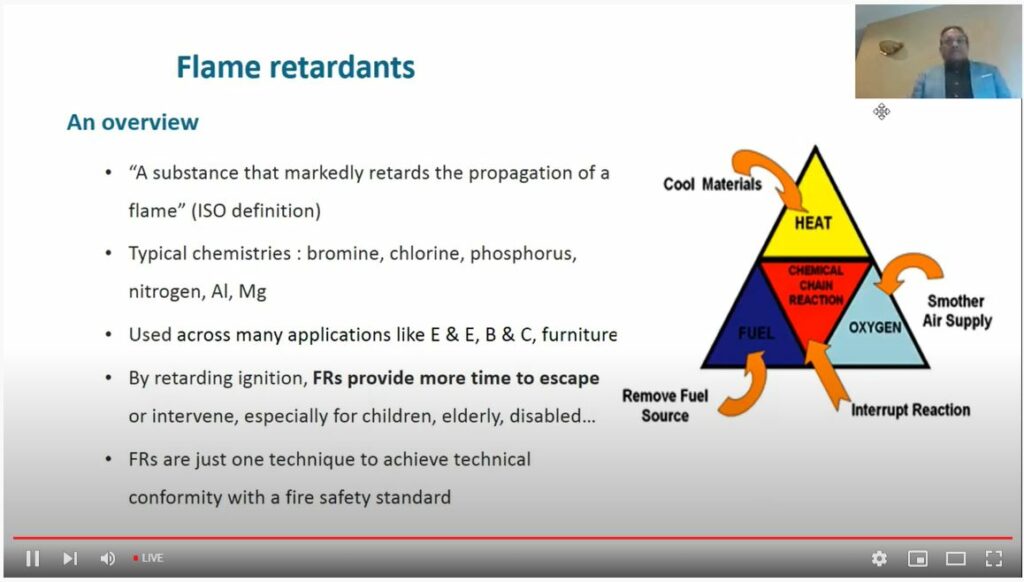 Kasturirangan Kannah Director, Product Advocacy, LANXESS presented some Fire Safety studies and data and mentioned the fact that "we believe that there is a correlation between the reduction of national fire safety regulations and the higher number of fire fatalities" and highlighted the importance of the use of "flame retardants as a solution provide more time to escape in case of fire, especially to children and elderly people".
Patrick Fox, Head of Public Affairs and Advocacy, BSEF, highlighted the fact that "The new general product safety directive provides an EU-wide "safety net" for non-food consumer products and it's an opportunity to address flammability hazards of products including furnishings and home appliances". Patrick mentioned that "BSEF position is that, with the evolution of materials and furnishings and the extended use of electronics, the flammability hazard needs to be explicitly mentioned as a safety risk."
In addition the session counted with the participation of Lieuwe de Witte from Physical Safety Institute (Instituut Fysieke Veiligheid – IFV), Shane Lyons, Business Development Manager at Ei Electronics,  and Sanne Michielsen, sr. Business Line Manager, at Smartwares Group
About BSEF
BSEF – the International Bromine Council, is the global representative body for bromine producers and producers of bromine technologies. Originally founded in 1997, BSEF works to foster knowledge on the societal benefits of bromine and its applications. The members of BSEF are Albemarle Corporation, ICL Industrial Products, Lanxess and Tosoh.
Visit www.bsef.org to learn more and follow BSEF on Twitter @BromineInfo for the latest news and information.