BSEF Response to Inaccurate Environmental Health News article (United States) on Polymeric Flame Retardants
BSEF – The International Bromine Council, notes the recent coverage by Environmental Health News relating to a scientific publication concerning a polymeric brominated flame retardant (Butadiene Styrene Co-polymer) by Koch et al. entitled "Degradation of the Polymeric Brominated Flame Retardant "Polymeric FR" by Heat and UV Exposure" in the journal Environmental Science and Technology[1].
BSEF notes that the study does not consider the conditions that are relevant to the use of the polymeric FR in the application itself. The polymeric flame retardant technology has been developed to provide effective flame retardant performance in polystyrene foams such as Expanded Polystyrene (EPS) and Extruded Polystyrene (XPS).
The study took a pure "polymeric FR" and subjected it to a series of degradation experiments (by heat and UV exposure). The study then looked for indications of degradation via some indicators (total bromine, total organic carbon) and also attempted to identify potential degradation products.
"In our view, the article by "Environmental Health News" (United States) from 9 January 2019, covering this publication, significantly over-interprets the study results and draws conclusions that are not justified by the study findings. " said Dr Kevin Bradley, BSEF Secretary General. He further noted that "the aim of the study was not to simulate realistic conditions but to conduct fundamental research. Therefore its conclusions should be treated with caution"
Under the most realistic scenario – heat exposure – the authors found very little degradation. Of the 7 degradation products reported, only 1 was brominated.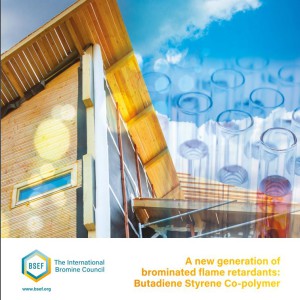 Under the UV exposure scenario 75 degradation products were reported. Only 8 of these 75 were found to be brominated. The study identified 3 of these products (5-bromosalicylic acid, 2,4,6-tribromo-3-hydroxybenzoic acid, and 3,5-dibromo-4-hydroxybenzoic acid).
"None of the identified potential degradation products resemble PBDEs", notes Dr Bradley.
Dr Bradley further noted: "the study used pure "polymeric FR", so it so was not incorporated in a polystyrene matrix as it would normally be". This is not realistic and obviously increases its susceptibility for degradation". The authors of the paper confirm that "the focus laid only on the degradation of pure "Polymeric FR", which was not incorporated into EPS or XPS products, but solely exposed to heat, which might have an impact on the results observed".
The only scenario where potential degradation products were formed was in the presence of UV radiation, and heat/ moisture. "For polystyrene foam applications in building and construction, "polymeric FR" is not subjected to these conditions", said Dr Bradley. The authors confirm that degradation during the service life "is probably not to be expected, but is an important fact for evaluating the claimed superior environmental behavior compared to previous BFRs.".  The authors also point out that more emphasis should be placed on the "end-of-life of an insulation product"
Butadiene Styrene Co-polymer ("Polymeric FR") is designed specifically to deliver improved EHS properties (non-PBT) and was developed over many years of careful research as replacement for HBCD. It has a superior sustainability profile compared to HBCD (EPA Report June 2014).  "It represents an important and innovative step forward for the Industry in providing effective flame retardant performance in polystyrene foams such as Expanded Polystyrene (EPS) and Extruded Polystyrene (XPS)", noted Dr Bradley.
About BSEF
BSEF is the international bromine producers organisation. Since 1997, the organisation has been working to foster knowledge on the uses and benefits of bromine-based solutions. BSEF strongly believe in science and innovation. Through investments in research and development BSEF members create robust bromine-based technologies meeting the needs of society. The members of BSEF are Albemarle Corporation, ICL Industrial Products, Lanxess and Tosoh Corporation.
Further information: Visit www.bsef.org to learn more and follow BSEF on Twitter @BromineInfo for the latest news and information.
Media Contact
For all enquiries please contact:
info@bsef.org
[1] https://pubs.acs.org/doi/10.1021/acs.est.8b03872